While the focus in the crypto market is currently on Bitcoin, the Shiba Inu price is once again at an important inflection point. After the price experienced another setback yesterday due to the plagiarism allegations surrounding the layer-2 technology Shibarium, SHIB bulls are currently struggling to sustain a breakout from the downtrend that has been in place since mid-February.
At press time, the SHIB price was at $0.00001090, just above key resistance at $0.00001086. The 4-hour chart of Shiba Inu shows the downtrend SHIB has recently experienced.
On Monday, the Shiba Inu price managed to break out of the descending trend channel and break through the aforementioned resistance. However, the price rally came to an abrupt end at the $0.00001185 resistance mark.
Triggered by the plagiarism allegations, SHIB did not only fall back below the $0.00001086 level, but also plunged back into the descending trend channel. SHIB bulls were initially unable to defend the retest.
However, driven by the bullish sentiment in the entire crypto market, SHIB succeeded in starting a new breakout today. Now, all eyes are again on $0.00001086, which at best will turn into support before targeting a rise to $0.00001185.
A look at the 1-day chart of Shiba Inu using the Fibonacci retracement levels reveals that another important turning point for the price is already waiting at $0.00001167, the 38.2% Fibonacci retracement. Should a pullback occur here, the region around $0.000010 would again be of key importance. A fall below the mark would be extremely bearish.
To build bullish momentum, the 50% Fibonacci retracement at $0.000013 is key. A break through this level would allow the bulls to target the next levels at around $0.000014 and $0.000016. The latter level could pave the way for a new 10-month high above $0.000018.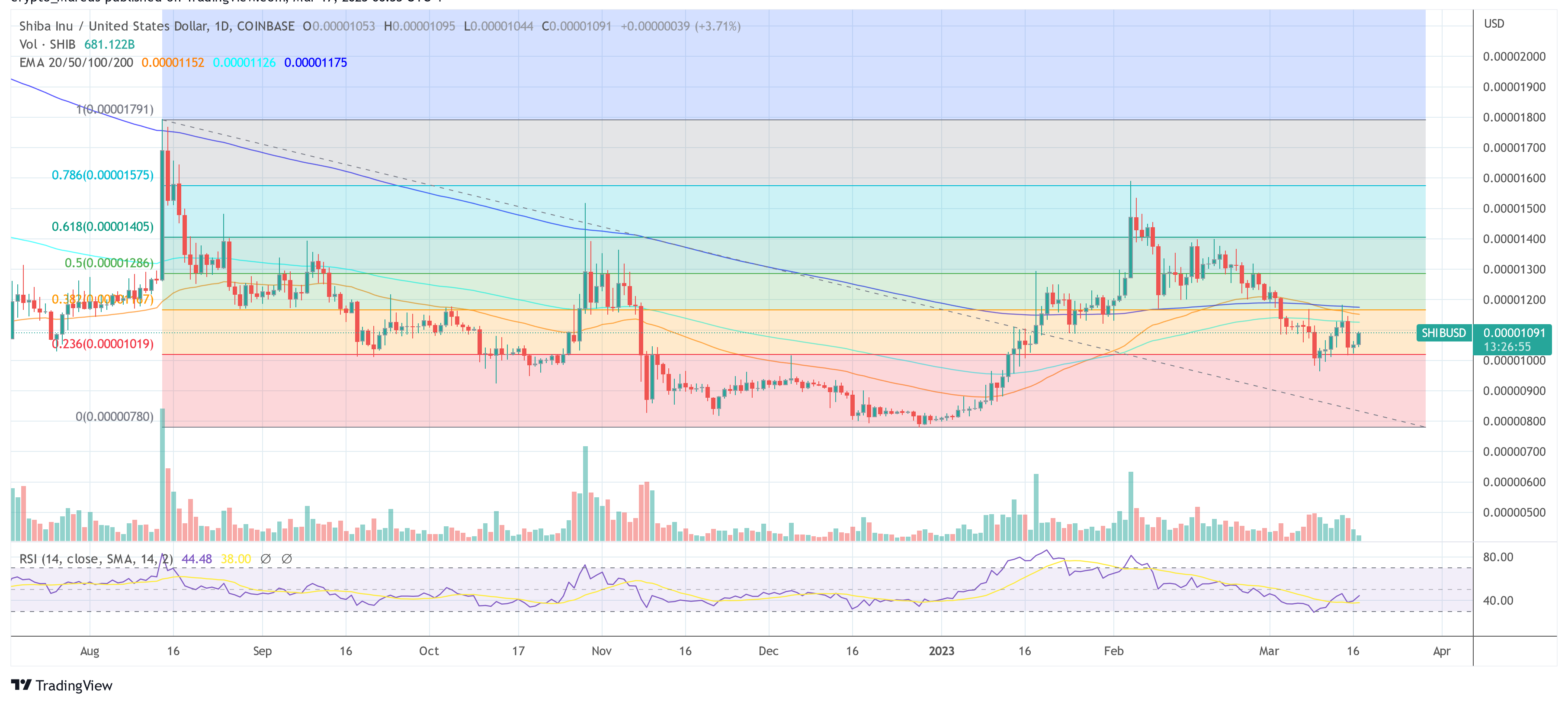 Shiba Inu Burn Rate Picks Up Again
After the SHIB burn rate was quite flat since mid-February – analogous to the price – an increased volume of burned tokens can be observed again since the beginning of March. On March 9, a staggering 2.2 billion SHIB were destroyed in just one day.
Yesterday's SHIB burn is also impressive. A total of 934,428,791 SHIB tokens were burned and 57 transactions were executed. Remarkably, almost all of these SHIB were burned in just one transmission, which consisted of 924,150,949 SHIB.
The Shiba Inu Burn Tracker on Twitter also shared that the Shiba Inu army has managed to burn 2.54 billion SHIB in the last seven days.
Featured image from Kanchanara / Unsplash, charts from TradingView.com