Bitcoin and other financial assets now have a Credit Suisse problem.

Credit Suisse credit default swaps signal that the company could collapse.

Credit Suisse stock price plunged by 20% and reached a record low.
Bitcoin price came under intense pressure on Wednesday as the banking sector came under a significant strain. BTC pulled back from the year-to-date high of $26,548, to a low of $24,526. It has retreated by ~7.8% from its highest point this week.
Credit Suisse crisis deepens
Bitcoin price has been in a strong bullish trend in the past few days as investors reacted to the ongoing performance in the banking sector. After falling to a low of $19,500 last week, the coin made a spectacular recovery as it jumped to a high of $26,548.
This rally happened after America's regulators decided to bailout key banks like Silicon Valley Bank (SVB) and Signature Bank. They decided to provide a backstop for their depositors, many of whom were companies in the crypto industry, as we wrote here.
The most important part of the bailout was the fact that it saved USD Coin, the second-biggest stablecoin in the world. Circle, the parent company of USDC, had over $3.3 billion deposited in the company. If it had failed, the ripple effect on the crypto industry would have been dire.
Now, it seems like we have another bank crisis. Credit Suisse stock price plunged by more than 20% after the company lost confidence of another key investor. Earlier this month, the company's biggest shareholder, Harris Associates, decided to sell its entire stake.
And on Wednesday, Saudi National Bank said that it will not provide more finance to the company. Therefore, there are significant risks that the company will fall. Indeed, its credit default swaps have risen, signaling that investors expect the bank to fall.
A collapse of Credit Suisse would have some positives for Bitcoin prices. For one, it will lead to a pause in interest rate hikes by the Fed and other central banks.
Bitcoin price forecast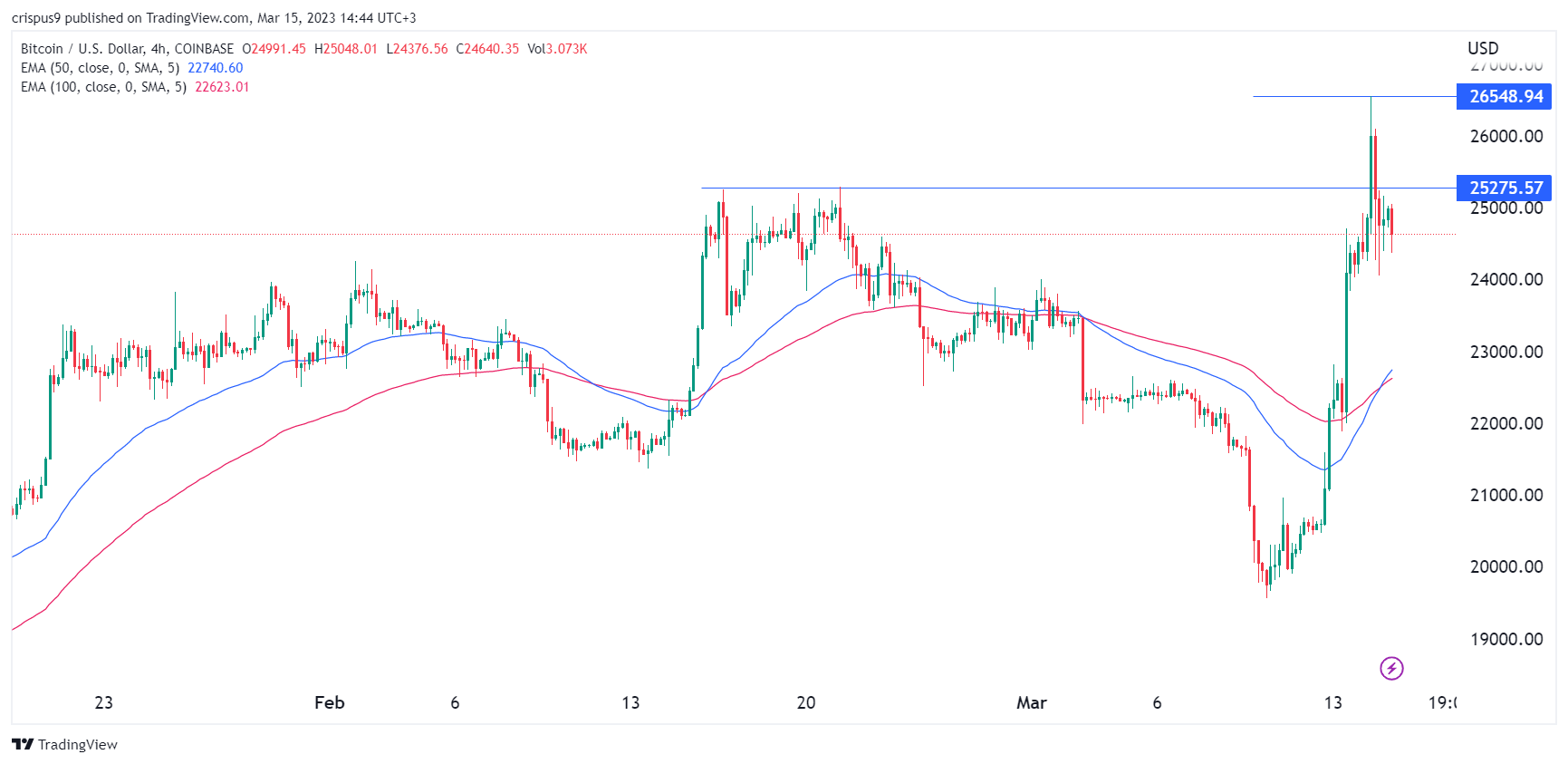 The BTC/USD price soared to a high of 26,548 on Tuesday and then pulled back to a low of 24,102. As it dropped, BTC moved below the key support level at 25,275, the highest point in February. On a positive note, the pair's 50-day and 100-day moving averages have formed a bullish crossover. The coin has also formed what looks like a small head and shoulders pattern.
Therefore, I suspect that it will continue falling in the next key support at $23,000. A move above the key resistance point at 25,275 will invalidate the bearish view.
How to buy Bitcoin
OKX
OKX is a top cryptocurrency exchange which offers over 140 cryptocurrencies to invest in. OKX takes customer security very seriously, they store almost all of their clients' funds in cold storage, and the exchange is yet to be hacked. On top of this, the exchange offers very low fees and customers can even use their crypto as collateral for loans on the platform.
Buy BTC with OKX today
Binance
Binance is one of the largest cryptocurrency exchanges in the world. It is better suited to more experienced investors and it offers a large number of cryptocurrencies to choose from, at over 600. Binance is also known for having low trading fees and a multiple of trading options that its users can benefit from, such as; peer-to-peer trading, margin trading and spot trading.
Buy BTC with Binance today
The post Bitcoin price recovery at risk amid new Credit Suisse crisis appeared first on CoinJournal.