Data shows the Bitcoin trading volume has continued to remain at unusually low values recently as market activity remains muted.
Bitcoin 7-Day Average Spot Trading Volume Stays Below $4 Billion This Week
As per the latest weekly report from Arcane Research, the BTC trading volume did observe a slight increase in the past week, but the value is still very low compared to the last year.
The "daily trading volume" is an indicator that measures the total amount of Bitcoin getting involved in transactions on any given day.
When the value of this metric increases, it means a larger amount of BTC is observing movement on the chain now. This shows that the market is becoming more active.
Related Reading | Bitcoin Still Struggling To Take Off In El Salvador
On the other hand, a declining volume can suggest that the market is becoming more inactive. Such a trend may imply that the interest around the crypto among investors is going down.
Now, here is a chart that shows the trend in the Bitcoin trading volume over the last year:
Looks like the value of the metric has flattened in recent weeks | Source: Arcane Research's The Weekly Update - Week 16, 2022
As you can see in the above graph, the Bitcoin seven-day average daily trading volume has been very low recently. Currently, the value of the indicator is less than $4 billion.
These low values have been there for quite the while now as the price of the crypto has been stuck in consolidation.
Related Reading | NFT Weekly Trading Volume Rebounds This Week, Crosses $600 Million
This week the metric observed a small raise over the previous one, but the BTC volumes have nonetheless remained among the lowest for the past year.
Historically, low trading volumes have been unfit for sustaining any large price moves as the market requires a high number of active traders to keep such moves going.
Just recently the price of Bitcoin attempted a rally, but it wasn't long before the jump died down as the volume didn't spike up along with it.
Such prolonged low volumes are unusual for BTC, and at the moment, it's quite unclear when high values may once again return to the crypto.
BTC Price
Today, Bitcoin's price has once again dropped off after a brief recovery yesterday, as at the time of writing the coin trades around $38.8k, down 7% in the last week.
Over the past month, the crypto has lost 12% in value. The below chart shows the trend in the price of the coin over the last five days.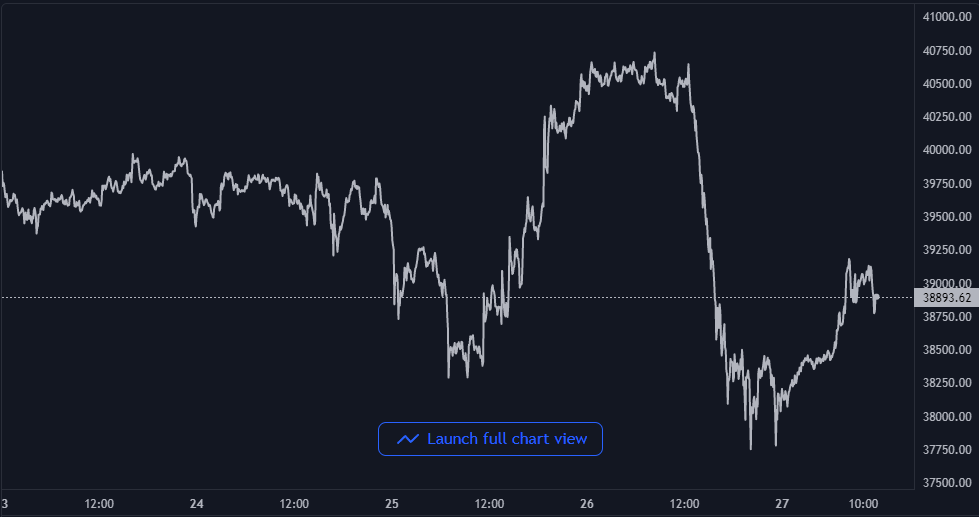 The price of Bitcoin looks to have plummeted down over the last twenty-four hours | Source: BTCUSD on TradingView
Featured image from Unsplash.com, charts from TrdaingView.com, Arcane Research