Storing your digital assets is an essential part of your crypto investment journey, and non-custodial wallets are becoming more prevalent as the field of decentralized finance continues to boom.
Non-custodial wallets are digital wallets that enable users to take full ownership of their assets. The name (non-custodial) comes from the fact that the wallet itself doesn't have custody of your crypto but rather serves as an interface that enables you to easily conveniently access it while also allowing third-party integrations.
This is the main difference between custodial and non-custodial solutions – ownership. On the other hand – with custodial wallets – it is the company that offers the services that safeguards and keeps your crypto. For instance, centralized cryptocurrency exchanges are oftentimes custodians, which means that they keep your crypto for you, and the private keys are not held by you.
This is where one of the most popular sayings in the industry comes into play – "not your keys – not your Bitcoin." Of course, it can be extended to every other cryptocurrency.
Non-custodial wallets allow you to retain full ownership of your assets, and you are the one who needs to store your private keys. Of course, this comes with its risks and challenges. If you choose to use a non-custodial wallet, you're solely responsible for protecting your private keys. If for any reason you lose the keys, then you lose access to your funds, and there is nothing the wallet provider can do to help you retrieve it.
Non-custodial crypto wallets are not suitable for anyone who cannot handle the sole responsibility of storing and safeguarding their private keys.
With that said, here are the top eight best non-custodial cryptocurrency wallets as of 2022.
MetaMask
MetaMask is a veteran in the browser extensions' wallet field, and it was launched in 2016 by the market-leading blockchain technology company, ConsenSys. Since then, it has grown to become the most popular non-custodial wallet. This is largely because it was one of the only available options during the massive DeFi boom back in the summer of 2020, which later came to be known as the DeFi summer. Over the past year, one of the main usages of MetaMask is the integration with the popular marketplace OpenSea, for buying and selling NFTs.
MetaMask allows users to create ERC-20-based wallets tokens, but it can also be integrated to function on other EVM networks such as the BNB Chain, Polygon, Optimism, and Arbitrum. Additionally, the crypto wallet functions as a browser extension that allows users to interact with decentralized apps (dApps) built on Ethereum and other EVM-compatible networks.
It also has an in-house swap feature that allows users to quickly exchange one token for another without accessing a decentralized exchange (DEX).
MetaMask takes absolutely no ownership or custody of your seed phrase and private keys, providing you with complete sovereignty over your assets.
On the downside, MetaMask only provides support for the Ethereum blockchain and networks built using the Ethereum Virtual Machine (EVM). This means that you cannot use MetaMask to store cryptocurrencies such as Bitcoin (BTC) and Solana (SOL).
Coinbase Wallet
As the name suggests, Coinbase Wallet was created by the leading US-based cryptocurrency exchange Coinbase and is quickly growing to be a preferred wallet for a range of reasons.
First, Coinbase Wallet offers a familiar user experience to existing solutions, making the transition very easy for those who already have a self-custody wallet. At the same time, however, it carries the reputation of the Coinbase brand, which – with almost 90 million users across the world – is a factor to consider.
The wallet was launched in 2018 and has become widely recognized as one of the most easy-to-use self-custody solutions in the market.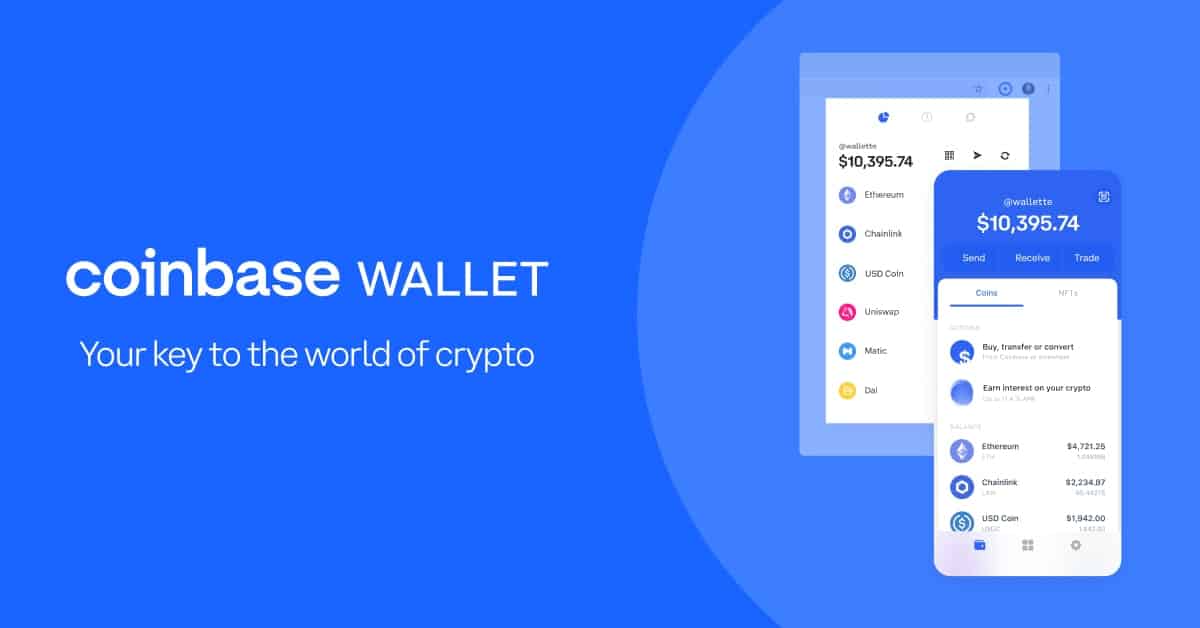 Coinbase Wallet supports Ethereum and all EVM-compatible blockchains and can be installed as a Chrome extension just like MetaMask. Unlike MM, however, the Coinbase Wallet extension also supports Solana and SPL tokens.
Coinbase Wallet also comes with a fully-developed mobile application that is very convenient, quick, and easy to install. Beyond a seamless user experience, the mobile app also adds support for holding some major non-EVM compatible tokens such as Bitcoin, Dogecoin, Litecoin, Ripple, and more.
Coinbase Wallet operates independently of its parent company in a way that it doesn't require any sort of registration, KYC, or a Coinbase account. If you do wish, you have the option of connecting your Coinbase Wallet to a Coinbase custodial account, providing users of Coinbase's centralized exchange with the option to quickly transfer assets from one to another. Again, this is 100% optional.
Trust Wallet
Trust Wallet is an open-source and decentralized crypto wallet application that offers users a wide range of options to buy, sell, and store digital assets.
Trust Wallet currently provides support for over 35 blockchains and more than 160 different digital assets. The wallet has in-house buy, swap, and exchange features that allow users to easily trade one crypto asset for another or buy crypto with fiat.
Users can also interact with dapps on Ethereum and 14 other EVM-compatible ecosystems without compromising security and privacy. The wallet is available on iOS, Android, and desktop devices.
In July 2018, Trust Wallet was purchased by the leading cryptocurrency exchange, Binance.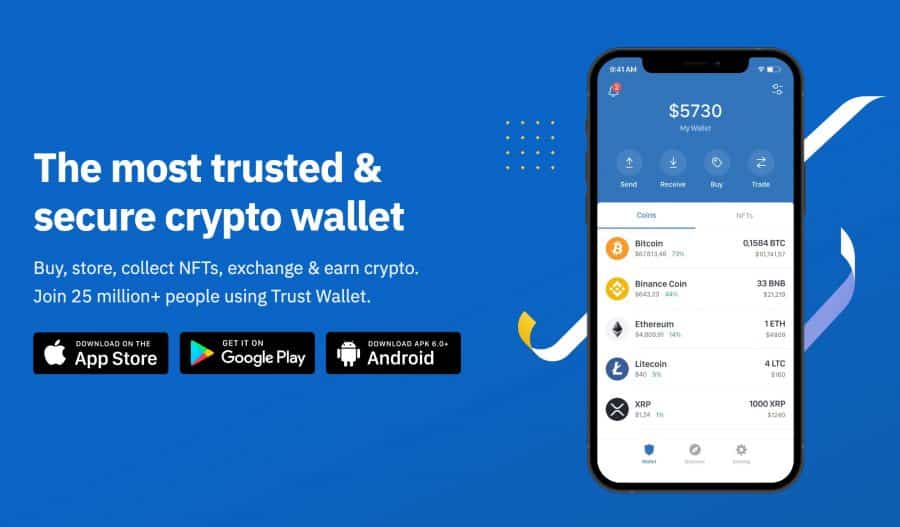 MyEtherWallet
MyEtherWallet (MEW) is a veteran in the space, and it's geared more towards users with a technical background.It's a free, client-side interface that's designed to help users with the Ethereum blockchain. It's very easy to use, albeit a bit more technical compared to the rest in the list.
Another thing to consider is that it's entirely open source. Much like a lot of the other wallets on our list, MEW also supports additional Ethereum-compatible networks. These include Ethereum Classic (ETC), the BNB Chain, Polygon, and so forth.
MEW is also designed to deliver cross-chain swaps capabilities where users can swap between Ether and Bitcoin, Litecoin, or Dogecoin. It works with some decentralized exchange aggregators such as 1inch to deliver the best rates if you decide to swap from the interface directly.
MyEtherWallet also has an app version to its web wallet, a detailed guide can be found here.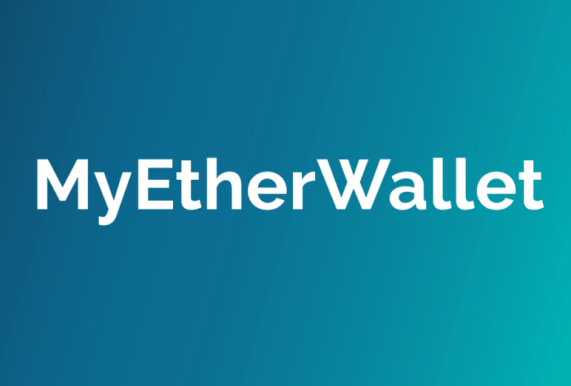 Coinomi
Coinomi is another popular choice with a rich history. This multi-currency wallet was launched in 2014, making it one of the oldest non-custodial wallets in the market.
It supports about 125 networks and more than 1,770 digital assets, some of which can be transferred through SegWit to make transactions lighter. Coinomi provides users with direct access to dApps, multiple Web3 projects, its in-house exchange, and direct token swaps.
Coinomi has tight security features as well and is available to a wide range of users from multiple operating systems and devices, including Android, iOS, Windows, macOS, and Linux. It is also available in eight different languages.
Exodus
Exodus is a multi-currency, non-custodial wallet that is designed to run on Windows, Linux, Mac, as well as Android, and iOS devices. The wallet is primarily focused on users who have never interacted with crypto before, hence it offers a slick, easy-to-learn interface.
Exodus is designed to provide portfolio management and crypto exchange services. Thus, users can store, manage, and trade cryptocurrencies from a single interface. It supports more than 130 different cryptocurrencies, including BTC, ETH, BNB, SOL, and DOGE.
Another feature of the wallet is that it offers users a risk-free way to make money off their crypto. When users make crypto-to-crypto purchases, Exodus gives them a percentage of the profit. The reward is sent directly to users' accounts.
BRD
While some non-custodial wallets are riddled with extensive onboarding processes and complex user interfaces, BRD believes in simplicity.
Formerly known as BreadWallet, BRD's design is intuitive and suitable for new investors. In fact, the wallet has a built-in tutorial for investors who are just getting started in the crypto space.
BRD supports most of the top cryptocurrencies in the market, including BTC, ETH, BCH, XRP, and all ERC-20 standard tokens. It also accepts payments for crypto purchases in over 35 different fiat currencies.
Despite applying a simple design to its interface, BRD's security measures are all but simple. It employs a host of advanced security features that are geared toward protecting users' assets and private information.
In addition to its non-custodial features, which allow only wallet owners to control their funds, BRD utilizes the Simplified Payment Verification (SPV). The SPV connects users directly to the Bitcoin network, improving the speed of transactions and enhancing security since there are no servers to hack.
The wallet has other notable security features, including AES hardware encryption, code signatures, touch ID, and a 6-digit PIN for extra security.
What is the Best Non-Custodial Crypto Wallet for You?
Choosing the best non-custodial crypto wallet that is right for you can be a hard nut to crack, considering the many options available. However, it is important to consider certain factors before deciding which wallet is best suited for your needs and level of experience.
Are you an expert or new to crypto? Do you want a wallet with an in-house swap feature and a dapp browser? Do you want a wallet that works best on mobile, desktop, or both? What type of cryptocurrencies are you looking to store and invest in?
The answers to the questions above will help you select a crypto wallet that best suits your needs. Remember, though, that with non-custodial wallets, you're solely responsible for the safety of your funds, so security should always be at the top of your priority to ensure that you safeguard your assets at all times.
This is why you should definitely check out our extensive guide on crypto security.
The Pros and Cons of Non-Custodial Cryptocurrency Wallets
Self-custody wallets come with a host of benefits that a lot of cryptocurrency-native users prefer, but they also have their disadvantages. All of these are entirely subjective and depend on the user's preferences, as well as technical background.
Pros: 
Complete control over private keys
Ability to interact with native DeFi applications
No KYC or any kind of verification process
Cons: 
A lot more challenging to use compared to custodial solutions
Greater risk: losing or mistakenly recording your seed phrase means you can never access your funds again